Ahhhh.... Whenever I came into town from college on the weekends, I always requested my mother made this recipe. Now that I'm older, this has got to be one of my favorite meals to make. It's thick and hearty and makes your home smell absolutely delicious. I will say before starting this recipe, it's very important that you have a handheld immersion blender. You could *probably* get by with a blender or food processor, but you really don't want to because you'll be messing with hot liquid.
So before we get started, let's get our ingredients together:
2 (28 ounce) cans crushed tomatoes
2 (14 ounce) cans chicken broth
14 ounces of corn tostadas
1/2 yellow onion, chopped
8 garlic cloves, minced
4 tablespoons butter
2 tablespoons light Karo syrup
2 tablespoons sugar
1 small chipotle chile in adobo
Toppings
Sour cream
Chopped green onion
Cilantro
3 chicken breasts (approx. 3 breasts, cubed, see directions)
Shredded Cheese
Crushed Tostada Shells
First things, first; I like to have a LARGE cutting board when making a meal that requires a lot of chopping. I will also say, that cutting boards are our friends. I have multiples, and I DO NOT cross-contaminate; meaning I don't put raw meats on the same board I use to cut herbs or veggies with. I also really like having a nice quality knife. This is a Santoku knife which is highly versatile in the kitchen. Absolutely love it. Also, I reccomend having an empty garbage can handy, or if you have a compost pile, have your leftover bowl handy as well.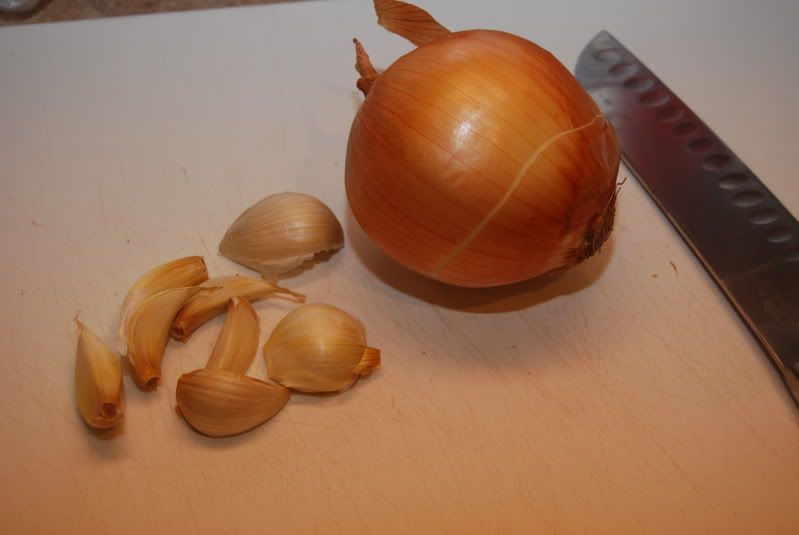 Get a large pot set on your stove and set to medium-high heat and put about 1 TB. of olive oil or other cooking oil heating. Mince your garlic (I actually use about a whole head of garlic and one full yellow onion, but I like lots of flavor) and chop your onions well. If you're struggling to get your garlic minced well, I like to sprinkle a little kosher salt (a PINCH) over the top and continue chopping... it might be in my head, but the salt seems to help break down the garlic, plus you season it at the same time.
When finished, add onions and garlic to your pot and sautee until transluscent. You DO NOT want to overcook or burn your garlic as it will make your soup extremely bitter.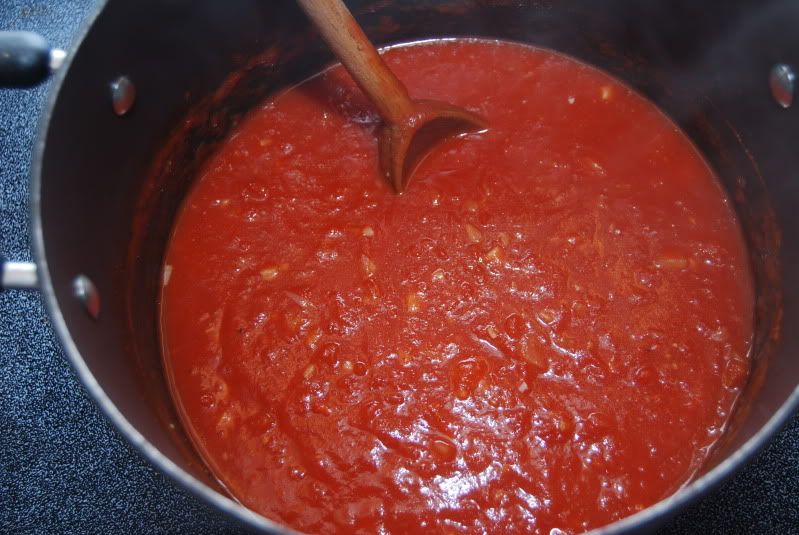 NEXT, Add your crushed tomatoes, chicken broth, caro syrup, butter, sugar and chipotle chille. I buy the Chipotle Chilli's in Adobo Sauce in the hispanic foods aisle at the grocery store. THESE ARE SPICY. Do not touch these with your fingers! The larger chilli you put in your soup, the spicier it will be! You can also add in some of the adobo sauce, but just beware of the spice. It gets more and more intense with each day it sits in your refrigerator, too w/ leftovers. Another thing to note, Chipotle chillis have an AMAZING shelf life if stored in an air tight container in your refrigerator. **For my animal-loving friends out there, you can substitute the butter with more caro syrup or even more sugar. The butter is merely there to take out some of the acidity from the tomatoes. You can of course also substitute vegetable broth for chicken.**
You will want to simmer this to let the flavors get acquainted with eachother for about thirty minutes. Next you will want to add about half the bag of tostada shells crushed up into the pot. Stir these in and let them get all nice and softened up by absorbing some of the soup; about 15-20 minutes.
Remove your pot from heat, and use your imersion blender to break up the large soft chunks of tostada shell and mix into the soup, this will also get any larger chunks of onion or garlic you might have missed. MAKE SURE you get the Chipotle chilli with your blender, too. Blessed be the poor soul who may accidentally swallow that while eating their soup! You may want to do a couple "sessions" of blending over a twenty/thirty minute period of time. This is supposed to be a "thicker" soup, but if you want you can always add more brother at this time. Totally up to you.
And that's it; you are done!!! You can always add more garlic or onion powder to it you'd like, I sometimes like to add paprika which gives it an even smokier, spicier flavor.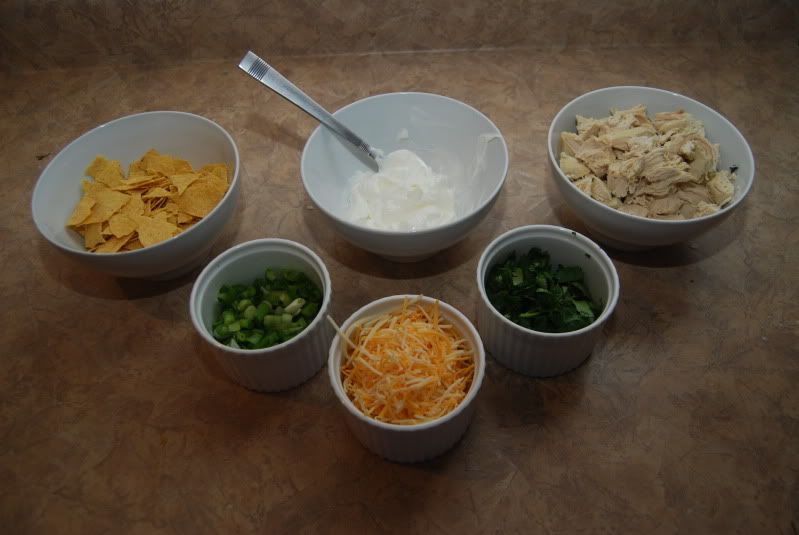 I serve my soup in a pasta bowl with crushed tostada shells, chicken, sour cream, shredded cheese, cilantro and green onions. You can use leftover chicken, but I just boil three boneless, skinless breasts in a large pot of boiling water with a large handful of cilantro, kosher salt and some olive oil for about thirty minutes. I remove them and let them cool well, then dice into cubes.
MMMMMMMMMMmmmmmmmm.....
I hope you enjoyed this little cooking tutorial! Let me know what you think! Would you like to see more recipes? Let me know if you try this one, I guarantee it is SOOO super YUMMY!!! Have a great day!